Hygienic Cell Plunger Initial Test Results – By Ernie Daley
The Comox Valley Bee Club's first Hygienic Cell Plunger has just passed it's first field trial.  Pin orientation was accurate, penetration adequate (I had plastic foundation so if yours is wax, a more carful Pin pressure on the plunge would be suggested).
Selected Frame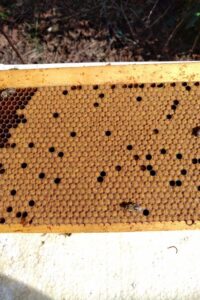 Lining up the pins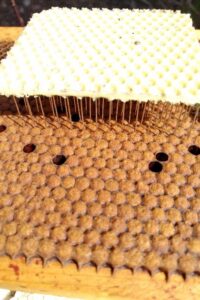 Actual Cell Puncture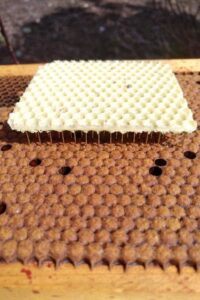 The punctured 189 cells minus 6 heater cells (i.e. open) see left pic below = 183 pin killed March 30th at 1:27 p.m.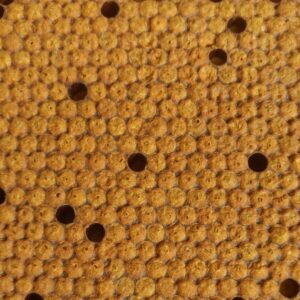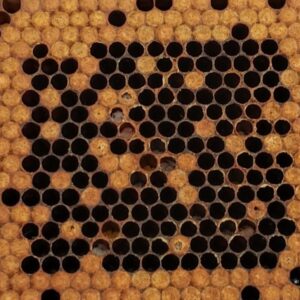 Checked on April 1 at 1:27 p.m. (48 hours later), pic above right. Noted 27 cells untouched (I counted the ones underway as cleaned out), resulted in 156 cleaned out of a possible 183 for a Hygienic score of 85%.  Given the activity and progress on the remaining ones as well as possible pin misses if any, I will definitely rate this one hive as a good candidate for splitting.  With a 2017 Superseded Queen, Winter survival and Spring build up have been good, mood is pleasing and first year's honey production was also good. Being Hygienic is a huge bonus, even though they did not reach the 90-95%, with a score of 85% I like this stock.
This has been very satisfying, now that we have a working tool proven in the field, you too can test your stock at your convenience.  The (189 Cell) Hygienic Cell Plunger is available from  Peter Smith – Contact via countrydogs [at] outlook [dot] com to arrange a time. or call 250-941-7792    Location: 2319 Waveland Rd, Courtenay
Note: it is recommended that hives be re-tested a second time for confirmation of Hygienic Behaviour.  Also, full disclosure, I did not check to see if the brood was in the Pink Eye stage or otherwise. This detail was only recently learned from Dr. Leonard Fosters talk in Parksville.  I am unclear of the implications as it relates to the test. But expect to be enlightened by someone more so than I. For now, I'm pretty happy with the results. Happy Hygienic Beekeeping!